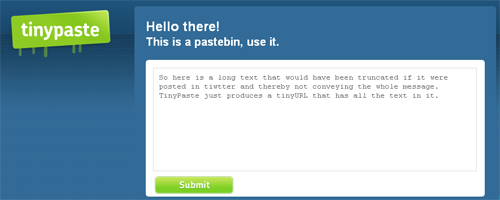 So your rants in
Twitter
are exceeding 140 characters and you are getting mad at Twitter for the 140 char/tweet limit?
TinyPaste
is just for you. Like url-shortening services, what it does is produce tiny urls to that lead to the longer text. So here is one more service that has a symbiotic relationship with Twitter.
But before you tag it as any other pastie sites that are popular in some IRC channels, take second look at it. TinyPaste offers you a
firefox add-on
that does the job with ease. Just select the text you want to paste to tinypaste, right click and select tinypaste selected text and you will get the tinypaste url.
TechCrunch has
called
it a microblogging platform rather a pastie. Whatever it may be but will surely pull some crowd from twitter and will shorten rants on Twitter with tinyurls, a breather that Twitter desperately needs.
Labels: Web Apps
blog comments powered by

Disqus