Ubuntu Team has recently released
Ubuntu 7.10
(codenamed Gutsy Gibbon). This is a major release and the best so far. Announcing the release the Ubuntu team said:
...

Ubuntu 7.10 is our best work and is available freely to all. Ubuntu has consistently ranked #1 in reviews of security update responsiveness and effectiveness. The Ubuntu platform is fully certified and supported, making it a secure choice for users looking to explore, deploy and enjoy Linux. Ubuntu 7.10 brings together the best open source and free software available in a stable, robust environment that 'just works'... Ubuntu 7.10 Desktop edition adds an enhanced user interface, improved hardware support, multiple monitor support and integrated desktop search.



Apart from the looks and the user-friendliness, it provides some great functionalities worth mentioning and proved once again why it tops the list of distros in
DistroWatch
.
I have been an Edgy Eft (Ubuntu 6.10) user for one year now. I missed the Fiesty Fawn six months back (Ubuntu Team releases its new one every six months.). This time I was under some great 'pressure to upgrade' to GG after I heard in an IRC channel that Edgy was going to be unsupported within a few months or so. So I took the plunge. And after just a few days of using it, I am sure would not have to regret!
Download
After I read
this thread
in the forum, I downloaded the ISO from
LinuxTracker.org
.
Installation
The installation was a bit dizzying for me. GParted, the partition editor for the previous versions was replaced. The new partition editor, IMHO, is easier than Gparted. The installation window has something like this:
If you don't have an Internet Connection, please read the Release notes for the problems that may occur.

And it happened! The installation froze at 82%. But after I disabled the networking, it ended smoothly. It may be a bug. So before you install, it is advisable to disable the networking the following way:
Right click on the network indicator at the top panel [
] and uncheck "Enable networking".
Among the numerous new features that GG has, one very cool and handy feature is that you can import your WindowsNT documents to GG while installing! Most people use XP (ever wondered why?
Click here
to find out!), so this feature is helpful.
Post-installation
After rebooting, Ubuntu seemed more powerful than ever.
It mounted each and every partition in the system, automatically.
Earlier people used to have a lot of problem with mounting filesystems. But this time you get it done automatically.
With this version of the distro, you can write files (and delete, too) on NTFS file systems - a long awaited feature. (simply put NTFS file systems are those used by Windows). So after you reboot, you have the whole of your hard-disk on your finger-tips (virtually!).
A Windows-like Documents, Pictures, Music and such folders for each user to organize files easily.

The default resolution of the screen is 1024X768 where most of the applications are optimised (like Firefox).

GAIM is replaced with Pidgin.
GIMP 2.4.0-rc3 is pre-installed. (Also comes Openoffice.org Draw)

Compiz comes as default with GG.
The Help Program is renovated and designed to help even a non-technical person switching to Ubuntu.

Tracker Search Tool comes pre-loaded. This is a very handy tool that helps you search for files and folders through all the filesystems. (You can restrict the filesystems too.)



Python 2.5 installed.
Conclusion
All in all, this is undoubtedly the best one yet. From Warty Warthog to Gutsy Gibbon, Ubuntu surely has come a long way. The awesome functionalities GG offers are mind-boggling. But some of the users are having a lot of troubles with GG. And some are claiming GG to be an experimental release, although
it is
a distribution release. Just after GG is released, talks about the next release,
Hardy Heron
(to be released April,2008) are on the air. And it won't add anymore functionality to the ones available now, rather it would more work on its robustness.
P.S. I forgot to post screenshot from my desktop. ;) Here's one that looks 'phat'. ;)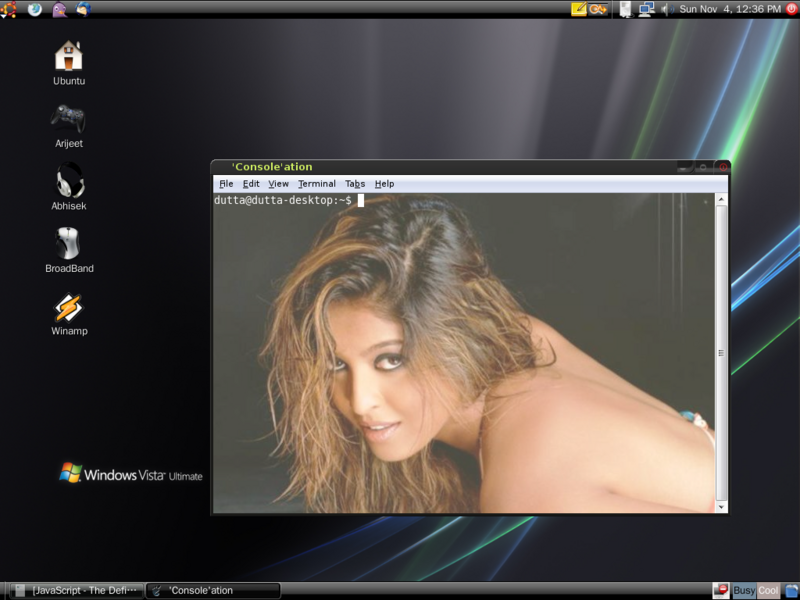 Technorati Tags:
gutsy gibbon
,
ubuntu 7.10 changelog
,
ubuntu
blog comments powered by

Disqus